Published: 10/25/2011 by Harlequin Teen


From Goodreads:

Ash, former prince of the Winter Court, gave up everything. His title, his home, even his vow of loyalty. All for a girl… and all for nothing.

Unless he can earn a soul.

To cold, emotionless faery prince Ash, love was a weakness for mortals and fools. His own love had died a horrible death, killing any gentler feelings the Winter prince might have had. Or so he thought.

Then Meghan Chase—a half human, half fey slip of a girl— smashed through his barricades, binding him to her irrevocably with his oath to be her knight. And when all of Faery nearly fell to the Iron fey, she severed their bond to save his life. Meghan is now the Iron Queen, ruler of a realm where no Winter or Summer fey can survive.

With the (unwelcome) company of his archrival, Summer Court prankster Puck, and the infuriating cait sith Grimalkin, Ash begins a journey he is bound to see through to its end— a quest to find a way to honor his solemn vow to stand by Meghan's side.

To survive in the Iron realm, Ash must have a soul and a mortal body. But the tests he must face to earn these things are impossible. At least, no one has ever passed to tell the tale.

And then Ash learns something that changes everything. A truth that turns reality upside down, challenges his darkest beliefs and shows him that, sometimes, it takes more than courage to make the ultimate sacrifice.
The Bookish Brunette thought:
Deep inside the Wyldwood, Ash and Puck are searching for Grimalkin, hoping he will be able to aid them in finding their beloved Meghan. Puck is causing trouble as usual… But they manage to get across The Bone Marsh in one piece to the witch's house.

"[Robin Goodfellow] The last I saw of you, you stole my broom and tied my house's legs so it fell over when we tried to catch you."
Ash pleads with the old witch to tell him the whereabouts of Grim, and she asks WHY he seeks him so badly. The answer is one I didn't ever see coming! So I surely won't be spoiling it, and it's not as simple as only finding Meghan either… *tears*
Beginning their epic journey to the seer, is anything but simple… They are chased by the witch, have a run in with the Thorngaurds, someone or something is following them and there is evil in the air… They reach the colony of ballybogs only to find a swamp troll has destroyed and taken over their village. Ash and Puck take the troll down easily….

"Man, that was fun. Better than playing Stay on the Wild Pegasus. Can we do it again?"
Then the moss covered, swamp troll gets back up and the hidden villain that had been stalking them lunges onto the scene in a blur of fur and fangs. The Big Bad Wolf.

"Possibly the most dangerous, ancient creature to ever walk the wilds of the Nevernever."
"I told you before [Prince]. The next time we meet, you won't ever see me coming." - The Big Bad Wolf
I know right??? He's there on Mab's order and believe it or not… The order is not to kill on sight! The BB Wolf is going to make sure they reach their destination and to secure himself a place in what is sure to go down in history as an epic tale retold over and over again.

"My loyalty-and my heart-belongs to another queen now."
They reach the seer… And dear lord you are in for a surprise! I NEVER ever saw THAT one coming! The Seer tells them they must go to the end of the Earth and she will guide them, which sounds all fine and great until you know WHO the Seer is! I'm literally DYING to tell you… But I won't!!! They must ride the River of Dreams if they hope to reach the end of the world, no one is particularly thrilled.
The road, or river in this case, is a long and treacherous one- filled with river monsters, scary knee-high cannibals, Forgotten Fey and MELON sized spiders.
The Gauntlet proves to be extremely difficult… but nothing so much as what he faces when he starts to feel HUMAN. *gasp* What ensues after The Gauntlet will bring you to your knees. Ash is being 'tested'…
Does he pass or fail? What are the consequences of the choice he's about to make?
I dare ANYONE to read this series and NOT be completely spellbound! The Iron Knight has got to be my FAVORITE book of the four. It's absolutely magical, beautifully mesmerizing… and completely heart-breaking at times!
BUY The Iron Knight!!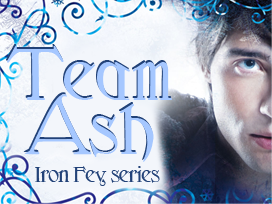 Excerpt:
"I apologize for him," I said quickly, and those sharp black eyes suddenly turned on me. I held myself tall, unafraid but still polite, lest she lump me together with the buffoon at my back. "Excuse this intrusion, old mother," I continued formally. "I am Ash of the Unseelie Court. And I need your help, if you would hear me."

The witch blinked. "Such manners. You were not raised in a barn like that one, I see." She stabbed her knife in Puck's direction,

wrinkling her long nose.
Make sure to visit:
Bellas Novella
tomorrow for MORE Iron Knight epicness!!
The following two tabs change content below.
Book loving, zombie freak, stiletto wearing, twitter whore, coffee addicted Brunette with a purse fetish. Collector of flamingo paraphernalia & zombie keepsakes… Frequenter of thrift stores... cRaFtY bitch... and I match my eye-shadow to my outfit - everyday.
Latest posts by Bookish Brunette (see all)